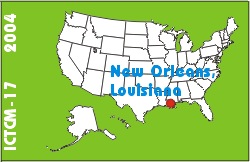 Electronic Proceedings of the Seventeenth Annual International Conference on Technology in Collegiate Mathematics
New Orleans, Louisiana, October 28-31, 2004
Paper C047
This is an electronic reprint, reproduced by permission of Pearson Education Inc. Originally appeared in the Proceedings of the Seventeenth Annual International Conference on Technology in Collegiate Mathematics, Edited by Joanne Foster, ISBN 0-321-43792-6, Copyright (C) 2006 by Pearson Education, Inc.
Teaching Mathematics Online: The Good, The Bad, The Ugly
---
Click to access this paper:
---
Nationally, an increasing number of institutions are beginning to offer undergraduate courses online and there is an increasing push to include an online option for more and more traditionally taught face-to-face courses. We will share our experiences of teaching introductory statistics in the 'online' classroom.
---
Keyword(s): on-line access