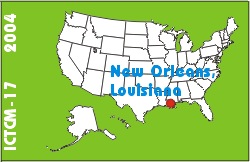 Electronic Proceedings of the Seventeenth Annual International Conference on Technology in Collegiate Mathematics
New Orleans, Louisiana, October 28-31, 2004
Paper C035
This is an electronic reprint, reproduced by permission of Pearson Education Inc. Originally appeared in the Proceedings of the Seventeenth Annual International Conference on Technology in Collegiate Mathematics, Edited by Joanne Foster, ISBN 0-321-43792-6, Copyright (C) 2006 by Pearson Education, Inc.
Using DNA Sequencing to Motivate Mathematics
Frederick A. Adkins

Mathematics Department
Indiana University of Pensylvania
Indiana, PA 15705
USA


fadkins@iup.edu
---
The processing of DNA sequence information or genomics provides an effective means to motivate students studying discrete mathematics, proof theory, graph theory, and algorithm complexity. This presentation will focus on using web-based resources from the National Center for Biotechnology Information to motivate and explore undergraduate Mathematics content.
---
Keyword(s): applications, discrete mathematics