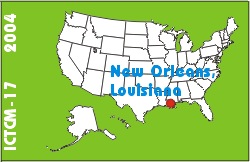 Electronic Proceedings of the Seventeenth Annual International Conference on Technology in Collegiate Mathematics
New Orleans, Louisiana, October 28-31, 2004
Paper C034
This is an electronic reprint, reproduced by permission of Pearson Education Inc. Originally appeared in the Proceedings of the Seventeenth Annual International Conference on Technology in Collegiate Mathematics, Edited by Joanne Foster, ISBN 0-321-43792-6, Copyright (C) 2006 by Pearson Education, Inc.
The Use of LOGO in Pre-service Mathematics Teacher Courses
---
Click to access this paper:
---
We describe our use of the public domain software MSWLogo in two mathematics courses for preservice teachers. One course is directed towards elementary school teachers and the other towards middle school mathematics teachers.
---
Keyword(s): software, teacher training