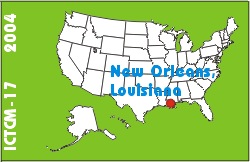 Electronic Proceedings of the Seventeenth Annual International Conference on Technology in Collegiate Mathematics
New Orleans, Louisiana, October 28-31, 2004
Paper C024
This is an electronic reprint, reproduced by permission of Pearson Education Inc. Originally appeared in the Proceedings of the Seventeenth Annual International Conference on Technology in Collegiate Mathematics, Edited by Joanne Foster, ISBN 0-321-43792-6, Copyright (C) 2006 by Pearson Education, Inc.
VBA Programming Techniques in Excel for a Cross Discipline Mathematics, Physics and Chemistry Course
---
Click to access this paper:
---
We will discuss VBA programming techniques within Excel that can be used to model problem mathematics, physics and chemistry. Techniques were developed for a cross discipline course currently offered at Albright College. Primarily, we will discuss problems that require numerical solution techniques.
---
Keyword(s): programming, spreadsheets, applications