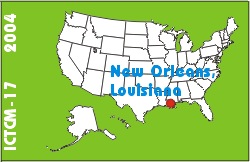 Electronic Proceedings of the Seventeenth Annual International Conference on Technology in Collegiate Mathematics
New Orleans, Louisiana, October 28-31, 2004
Paper C011
This is an electronic reprint, reproduced by permission of Pearson Education Inc. Originally appeared in the Proceedings of the Seventeenth Annual International Conference on Technology in Collegiate Mathematics, Edited by Joanne Foster, ISBN 0-321-43792-6, Copyright (C) 2006 by Pearson Education, Inc.
Stimulating Simulating with the TI-83+: Lessons for Preservice Teachers From a Mathematics Course
Jean McGivney-Burelle

Department of Mathematics
Millersville University
P.O. Box 1002
Millersville, PA 17551-0302


jmcgivney-burelle@millersville.edu
---
Click to access this paper:
---
This presentation will provide an overview of how the TI-83+ can be used to investigate concepts in probability with preservice teachers. There will be a series of simulation-based problems presented along with a discussion of how the TI-83+ can be used to allow students to construct empirical probability distributions.
---
Keyword(s): probability, TI-83, simulation, teacher training