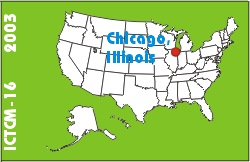 Electronic Proceedings of the Sixteenth Annual International Conference on Technology in Collegiate Mathematics
Chicago, Illinois, October 30-November 2, 2003
Paper S087
This is an electronic reprint, reproduced by permission of Pearson Education Inc. Originally appeared in the Proceedings of the Sixteenth Annual International Conference on Technology in Collegiate Mathematics, Edited by Corinna Mansfield, ISBN 0-321-30456-x, Copyright (C) 2005 by Addison-Wesley Publishing Company, Inc.
A Web Course for In-service High School Mathematics Teachers
---
Click to access this paper:
---
We describe our online, graduate level mathematics course for in-service mathematics teachers who are pursuing a Master of Arts degree in Mathematics from our department. The course uses WebCT, Maple and LOGO.
---
Keyword(s): teacher training, Maple, WebCT