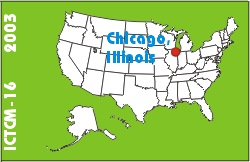 Electronic Proceedings of the Sixteenth Annual International Conference on Technology in Collegiate Mathematics
Chicago, Illinois, October 30-November 2, 2003
Paper S039
This is an electronic reprint, reproduced by permission of Pearson Education Inc. Originally appeared in the Proceedings of the Sixteenth Annual International Conference on Technology in Collegiate Mathematics, Edited by Corinna Mansfield, ISBN 0-321-30456-x, Copyright (C) 2005 by Addison-Wesley Publishing Company, Inc.
Numerical Methods using Mathematica Notebooks and Web Applets
---
Click to access this paper:
---
Blackboard is used to organize Mathematica notebooks and web applets. The notebooks provide demonstrations of numerical techniques without requiring advanced programming skills. The web applets are used to facilitate understanding. Combining the two provides students with an accessible and engaging introductory numerical methods course.
---
Keyword(s): numerical methods, Mathematica, Java, Blackboard