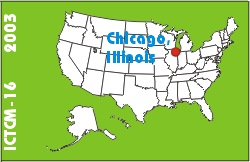 Electronic Proceedings of the Sixteenth Annual International Conference on Technology in Collegiate Mathematics
Chicago, Illinois, October 30-November 2, 2003
Paper S030
This is an electronic reprint, reproduced by permission of Pearson Education Inc. Originally appeared in the Proceedings of the Sixteenth Annual International Conference on Technology in Collegiate Mathematics, Edited by Corinna Mansfield, ISBN 0-321-30456-x, Copyright (C) 2005 by Addison-Wesley Publishing Company, Inc.
Maple versus a Variable Mass Spring Equation
---
Click to access this paper:
---
Differential equations arising from a variable mass spring are considered with Maple's assistance. The solutions provide an introduction to Bessel functions and a reiteration of linear differential equation theory, as well as a nice application of technology. The problems are suitable for technology assisted classroom projects.
---
Keyword(s): Maple, differential equations