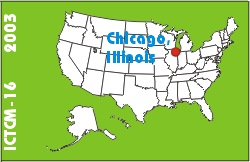 Electronic Proceedings of the Sixteenth Annual International Conference on Technology in Collegiate Mathematics
Chicago, Illinois, October 30-November 2, 2003
Paper S024
This is an electronic reprint, reproduced by permission of Pearson Education Inc. Originally appeared in the Proceedings of the Sixteenth Annual International Conference on Technology in Collegiate Mathematics, Edited by Corinna Mansfield, ISBN 0-321-30456-x, Copyright (C) 2005 by Addison-Wesley Publishing Company, Inc.
Making Mathematics More Attractive Using New Technology for Experiments in Cross-Curriculum Projects
---
Click to access this paper:
---
Experiments carried out by pupils using new technology are used to make mathematics and natural sciences more attractive. In this paper, we report about our experiences made during science classes where pupils were working at several topics integrating math to biology, chemistry and physics experiments.
---
Keyword(s): applications