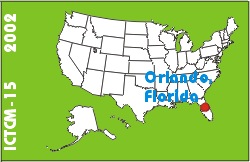 Electronic Proceedings of the Fifteenth Annual International Conference on Technology in Collegiate Mathematics
Orlando, Florida, October 31-November 3, 2002
Paper P011
Posting Math to the Web Using Tools on the Wake Forest Standard Load
Steven Wicker

Departments of Mathematics, Computer Science, and Military Science
Wake Forest University
Winston Salem, NC 27109
USA


wickersg@wfu.edu
---
Click to access this paper:
---
Wake Forest University has an encompassing laptop program in which all entering freshmen are issued IBM ThinkPads. The students keep the laptops for two years and receive new laptops their junior year. Each year sees a different model ThinkPad with changes to the load. This year, 2002, we have had our most significant changes with in the past few years. We were somewhat forced to switch from Windows98 to Windows XP for our standard load operating system. Fortunately or unfortunately this meant we had to examine all of our software to ensure that it continued to work with our load.
In conjunction with this examination, it seemed a good time to examine the tools that were readily available on our standard load that could potentially be used to post mathematics to the web. We will take a look at three basic starting points of using Word, LaTeX, and Maple and see how we can post these documents or transform them into documents that can be posted on to the web using tools that are readily available on our standard load or using tools that are easily obtainable.
---