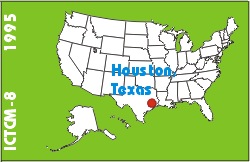 Electronic Proceedings of the Eighth Annual International Conference on Technology in Collegiate Mathematics
Houston, Texas, November 16-19, 1995
Paper C017
The Relationship Between Learning Styles and the Computer-Based System Precalc
Juan C. De Lemos


Computer Science Department
Florida International University
Miami, FL 33199
USA
Phone: (305) 348-3386


DELEMOSJ@SOLIX.FIU.EDU

Alex Pelin


Computer Science Department
Florida International University
Miami, FL 33199
USA

Jose Quiroz


Computer Science Department
Florida International University
Miami, FL 33199
USA
---
Click to access this paper:
---
We present the PRECALC Course, a CBI (Computer-Based Instruction System) developed at Florida International University between 1993 and 1994. The PRECALC course has nine lessons: Conic Sections, Circle, Hyperbola, Parabola, Ellipse, Functions, Relations, Graphs, and Polynomials.
Each lesson consists of a sequence of screens that present definitions, theorems, graphs, examples and exercises. At the start of each lesson, the student is presented with a lesson objective screen that describes the contents of the lesson. Then the student gets a menu that lists the sections of the lesson.
Each section covers a different topic. The first section, the Prerequisites, presents the information that the student must know to follow the lesson. Each lesson has four to five core sections, a Practice Problems section and a Progress Check section. The Practice Problems contains a large set of problems based on the topics covered in the core sections. It acts as a reinforcement of the information presented in the core sections and helps the student to visualize and to understand the material. The last section is used for self examination. It has 20 questions from the core area. Based on the student's answers the system will prescribe remedial exercises for the weak areas.
Each section is a sequence of screens. Each screen has a flow bar that allows the user to navigate through the lesson. The student can move to the next screen, go back to the previous screen, or put the lesson on standby and look at the terms or review the prerequisites. He/She can also get a menu to go to another section or to exit the lesson. In special cases the student can obtain hints for solving a problem.
The system works on an IBM PC or an IBM compatible computer equipped with a color VGA monitor and a hard drive. We get good graphics and fast interaction when the lesson runs on a 286 system (or a better one like 386 and 486). The system requires 1 Meg of RAM, a mouse, and a hard drive with a minimum of 2.5 Meg of space for each installed lesson.
All necessary software except for the operating system (MS-DOS 3.1 or higher), is supplied by the system. Each lesson can be stored on one or two High Density 3.5 floppies. Each section of the lesson is stored as a binary file on the floppy. The floppy also contains an executable file, STUDENT.EXE and a text file that sets up the lesson environment. The screens and the flow controls are implemented under the TenCORE authoring multimedia system, version 6.
This system was use by the students tacking the pre-calculus course at F.I.U. We conducted a study on the effectiveness of the system from spring 1994 to spring 1995. We distributed two questionnaires and analyzed the data using statistical methods. We discovered that the system was very helpful specially to visual, and tactile/kinesthetic learners.
---
Keyword(s): precalculus, software