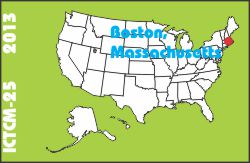 Electronic Proceedings of the Twenty-fifth Annual International Conference on Technology in Collegiate Mathematics
Boston, Massachusetts, March 21-24, 2013
Paper S059
This is an electronic reprint, reproduced by permission of Pearson Education Inc. Originally appeared in the Proceedings of the Twenty-fifth Annual International Conference on Technology in Collegiate Mathematics, ISBN-10: 0133866726, Copyright (C) 2014 by Pearson Education, Inc.
Proof-of-Concept of an Augmented Reality Application in Developmental Mathematics
Michael Kaye


Baltimore City Community College

Yun Liu


Baltimore City Community College

Thao-Nhi Luu


Baltimore City Community College

Petal Sumner


Baltimore City Community College
---
Click to access this paper:
---
In this paper, we describe a new technological method, Augmented Reality Algebra, for developmental mathematics recitation. Our method, never before used in a developmental mathematics setting, relies on an interactive presentation of material via a simulated augmented reality environment. We describe our study, in which a simulation of this method was used on experimental groups of students. The resulting data is compared with related control groups, and some basic comparative statistical analysis is described. Our conclusion is that our students show significant improvement with the use of simulated Augmented Reality Algebra, when compared to students who learn and practice the same mathematics with more traditional approaches.
---
Keyword(s): developmental mathematics