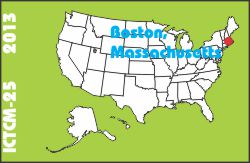 Electronic Proceedings of the Twenty-fifth Annual International Conference on Technology in Collegiate Mathematics
Boston, Massachusetts, March 21-24, 2013
Paper C040
This is an electronic reprint, reproduced by permission of Pearson Education Inc. Originally appeared in the Proceedings of the Twenty-fifth Annual International Conference on Technology in Collegiate Mathematics, ISBN-10: 0133866726, Copyright (C) 2014 by Pearson Education, Inc.
The Cyclotomic Equation and its Significance to Solving the Quintic Equation
---
Click to access this paper:
---
We investigate the properties of x
n
-1 for n = prime, and for a general n. Its significance is in connection with the attempts to solve the quintic equation. Another application is in the construction of regular polygons with a compass and straightedge.
---
Keyword(s): abstract algebra