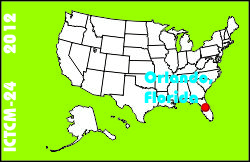 Electronic Proceedings of the Twenty-fourth Annual International Conference on Technology in Collegiate Mathematics
Orlando, Florida, March 22-25, 2012
Paper S118
This is an electronic reprint, reproduced by permission of Pearson Education Inc. Originally appeared in the Proceedings of the Twenty-fourth Annual International Conference on Technology in Collegiate Mathematics, ISBN 0-321-869699, Copyright (C) 2013 by Pearson Education, Inc.
Using SmartPens to Facilitate Math Communication Online
---
Click to access this paper:
---
We describe how we used Smartpens for the online computational mathcourse. The author has used Smartpens to create mini lectures and to show students examples and thorough solutions. In addition, each student was provided a smartpen and expected to use their smartpen to post solutions and comment on other student solutions. Examples discussed are related to rootfinding methods, computational integration techniques, smartpens, and Taylor polynomials. Student feedback about the course and smartpens are discussed.
---
Keyword(s): on-line access