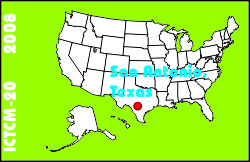 Electronic Proceedings of the Twentieth Annual International Conference on Technology in Collegiate Mathematics
San Antonio, Texas, March 6-9, 2008
Paper C020
This is an electronic reprint, reproduced by permission of Pearson Education Inc. Originally appeared in the Proceedings of the Twentieth Annual International Conference on Technology in Collegiate Mathematics, ISBN 0-321-64488-3, Copyright (C) 2009 by Pearson Education, Inc.
Teaching Statistical Thinking Using Spreadsheets
---
Click to access this paper:
---
Mathematics, statistics, and spreadsheet data processing form a logical chain. A famous Cauchy functional equation is used for development of statistical procedure that tests the rate of expansion of an observed phenomenon. A spreadsheet is presented that tests Malthusian theory of population growth.
---
Keyword(s): statistics, spreadsheets