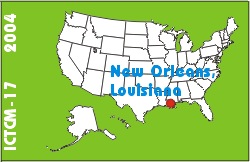 Electronic Proceedings of the Seventeenth Annual International Conference on Technology in Collegiate Mathematics
New Orleans, Louisiana, October 28-31, 2004
Paper S094
This is an electronic reprint, reproduced by permission of Pearson Education Inc. Originally appeared in the Proceedings of the Seventeenth Annual International Conference on Technology in Collegiate Mathematics, Edited by Joanne Foster, ISBN 0-321-43792-6, Copyright (C) 2006 by Pearson Education, Inc.
A Java Applet to Explore Multiple Representations of Function in a Teacher Education Course
---
Click to access this paper:
---
This session provides an overview of Java applets used in a preservice mathematics course for elementary and middle schoolteachers. Participants will have an opportunity to discuss programming as well as the course design. The applets, laboratory guides, content standards, and student performance descriptors will be distributed.
---
Keyword(s): Java, teacher training