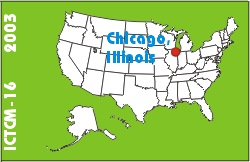 Electronic Proceedings of the Sixteenth Annual International Conference on Technology in Collegiate Mathematics
Chicago, Illinois, October 30-November 2, 2003
Paper S135
This is an electronic reprint, reproduced by permission of Pearson Education Inc. Originally appeared in the Proceedings of the Sixteenth Annual International Conference on Technology in Collegiate Mathematics, Edited by Corinna Mansfield, ISBN 0-321-30456-x, Copyright (C) 2005 by Addison-Wesley Publishing Company, Inc.
My Student Knows the Mathematics, But Has Never Used the Graphing Calculator
Teresa McCullough

Montgomery College
51 Mannakee Street
Rockville, MD 20850
USA


Teresa.McCullough@Montgomerycollege.edu
---
Click to access this paper:
---
Students in our math program start using TI calculators in Intermediate Algebra. Students enter the curriculum at any stage, and may know the prerequisite math but not the calculator. We provide instructional workshops for these students.
---
Keyword(s): graphing calculators