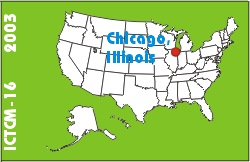 Electronic Proceedings of the Sixteenth Annual International Conference on Technology in Collegiate Mathematics
Chicago, Illinois, October 30-November 2, 2003
Paper S100
This is an electronic reprint, reproduced by permission of Pearson Education Inc. Originally appeared in the Proceedings of the Sixteenth Annual International Conference on Technology in Collegiate Mathematics, Edited by Corinna Mansfield, ISBN 0-321-30456-x, Copyright (C) 2005 by Addison-Wesley Publishing Company, Inc.
Using a Script, Programs, and Pictures with the Anscombe Data
Thomas P. Kline

Mathematics Department
University of Northern Iowa
Cedar Falls, Iowa 50614
USA


thomas_kline@uni.edu
---
Click to access this paper:
---
If you use the ANSCOMB data to illustrate the danger of over-reliance upon the correlation coefficient, then consider writing a script for either a TI-92+ or Voyage 200 to organize the presentation.
---
Keyword(s): statistics, Voyage 200, TI-92