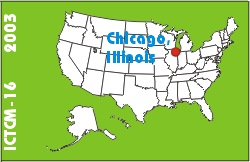 Electronic Proceedings of the Sixteenth Annual International Conference on Technology in Collegiate Mathematics
Chicago, Illinois, October 30-November 2, 2003
Paper S063
This is an electronic reprint, reproduced by permission of Pearson Education Inc. Originally appeared in the Proceedings of the Sixteenth Annual International Conference on Technology in Collegiate Mathematics, Edited by Corinna Mansfield, ISBN 0-321-30456-x, Copyright (C) 2005 by Addison-Wesley Publishing Company, Inc.
Dynamic Education for K-8 Pre-service Mathematics Teachers: Delivering Content Using Web-enhanced and ITV Modalities
---
Click to access this paper:
---
A web-enhanced activity-based content course for K-8 pre-service teachers is offered via the Maryland Interactive Distance Learning Network (MIDLN) to students at Garrett College and Hagerstown Community College. The classrooms resemble TV studios where students communicate among studio sites in real time.
---
Keyword(s): teacher training, on-line access